Bavarian Officer Sword with Scabbard M1855
from EUR 410,00
incl. 19 % VAT excl. shipping costs
Product.Nr. M185
weight 1,00 KG
delivery time 2 - 3 Weeks
Bavarian Officer Sword with Scabbard M1855
Bavarian Officer Sword M1855 with steelscabbard and clothcase
Art. No.: M1855
Blade:
Forged stainless steel, hardened and tempered to a hardness of 48-55° HRC Rockwell ca., hand-polished. Each side bears a blood-groove.
Dimensions: ca. 810 x 22 x 5.5 mm, slightly curved
Acid Etching
Historical original and handmade etching of Bavarian Motto " In Treue Fest" and Ornaments / Crown. "so deep you can feel it with your fingernail."
On both sides of the blade.
Hand-Guard Set:
Solid brass guard, consisting of top nut, grip back, ring and guard. Manually set and polished.
Handle:
Strong and solid ABS handle with sharkskin imitation surface, 3 double-twisted brass wires in golden colour wrapped around the handle grooves.
Scabbard:
Handmade scabbard made of a stainless steel seemless tube, bent and polished, fitted with 2 carrying rings made of stainless steel. Interior with 2 slats for protection of the blade. Total length ca. 850 mm.
Finish: Nickelplated.
Additional Accessories: Protective clothbag with drawstring
Customer must be 18 years of age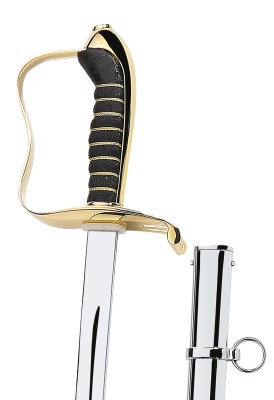 Bavarian Officer Sword M1855, 24 carat goldplated
EUR 450,00
incl. 19 % VAT excl. shipping costs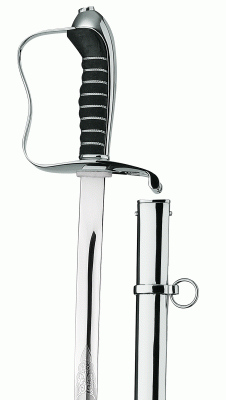 Bavarian Officer Sword M1855, nickelplated finish
EUR 430,00
incl. 19 % VAT excl. shipping costs
Bavarian Officer Sword M1855 with steelscabbard and clothcase, brass polished finish
EUR 410,00
incl. 19 % VAT excl. shipping costs