Folded Steel Marugata Katana
EUR 1.199,00
Product.Nr. JAP04BrWW285
delivery time 2 - 3 Weeks
Folded Steel Marugata Katana
Wonderful folded steel, hand-forged KATANA : The Marugata is an historical design from the Edo Period. Very elegant appearance.
Suitable for Tameshigiri.

Sugata (Blade style): Hand-forged curved blade with a Bohi (groove) and Chu-Kissaki (tip). Folded steel (C45 & C55Si7- USA: Steel 1095). 13 times folded to achieve ca. 8192 layers.
Traditional clay-wrapping technique for differential hardening. There are beautiful hada (grain in steel, pattern of folding the steel) in the blade.
The hardness of its Mune is ca 43° and the Ha (blade edge) is ca 60° HRC Rockwell.
The blade spine is iori-mune, the edge is without Niku. (The blade has got a flat and cutting sharp edge).
Blade length (from habaki): ca 71 cm/ 28 inches. It is available also in gun-blue finish.

Sori (curvature): 0,6 inch.Tsuka: Brown white /white on real sting-ray skin
Tsuba: Marugata
Delivered with protective cloth bag and saya.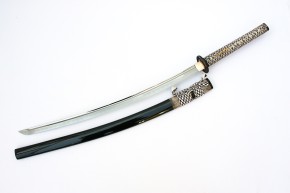 Marugata Katana with gun-blue blade
EUR 1.350,00
Recommended products