Folded Steel Wakizashi Muromachi
Shipping of this product only be available after age verification.
EUR 650,00
Product.Nr. WAK13DRW209
delivery time ex stock
Folded Steel Wakizashi Muromachi
Wakizashi Bohi :
Sugata (Blade style): Hand-forged curved blade with Bohi (groove) and Chu-Kissaki (tip). Folded steel (45C & C55Si7- USA: Steel 1095). 13 times folded to achieve ca. 8192 layers. Traditional clay-wrapping technique for differential hardening. There are beautiful hada (grain in steel, pattern of folding the steel) in the blade. The hardness of its Mune is ca 43° and the Ha (blade edge) is ca 60° HRC Rockwell. The blade spine is iori-mune, the edge is without Niku. (The blade has got a flat and cutting sharp edge).

Blade lenght (from Habaki): ca 50 cm/ 20 inches.

Sori (curvature): 1,52 cm / 0,6 inch.

Tsuka: Red Ito on white stingray-skin

Delivered with Saya and protective cloth bag.
Customers also purchased
Dragonfly Iaito with stainless steel blade, sori 1.0, 2.35 Shaku
EUR 359,00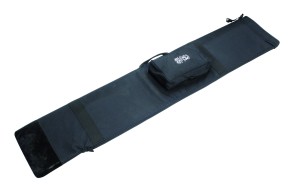 Sturdy Carrying case for up to 2 swords and accessories
EUR 49,00
incl. 19 % VATexcl. shipping costs