Swords for Haiti
---
---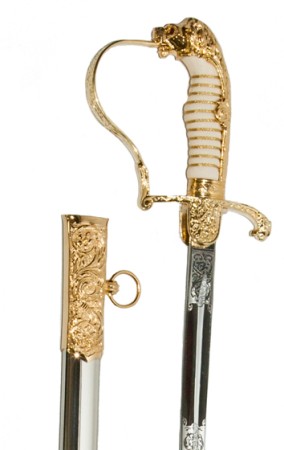 Haiti Army Officer Saber and Scabbard
Price on request
Haiti Army Officer Saber

Made in Germany
Blade: A forged stainless steel blade hammered to the correct curvature. It is hardened and tempered to ca. 48-52° HRC Rockwell, hand-polished. Length of the blade is ca. 81 cm / 32 inch.
Etching: Both sides of the blade are traditionally acid etched with ornaments and name panel. The acid-etching is so deep, that one can feel it with a fingernail.
Guard: 24-carats gold-plated brass with ruby-colored eyes for the lion.
Grip: Ivory-colored textured ABS plastic, wrapped with 3 golden wires.
Scabbard: Nickel-plated and hand-polished steel tube with 24-carats gold-plated ornamental brass fittings and 2 carrying rings.
Included Accessories: Protective cloth bag and certificate.
Customer must be 18 years of age
to article