Masonic Swords
Masonic Swords and scabbards
---
---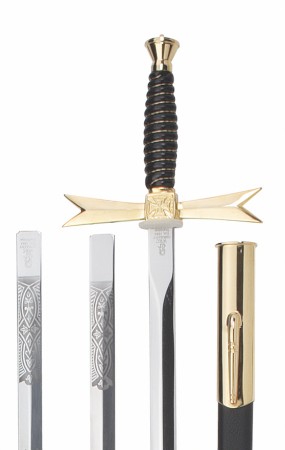 MASONIC SWORD WITH SCABBARD, various Models
from EUR 360,50
The Lodge Sword for Lodge Associations, manufactured by WKC Solingen, is an exclusive and iconic sword specially designed for members of Lodge Associations. With its high-quality workmanship and its unique design, this lodge sword embodies the values and traditions of the lodge brotherhoods.

Each lodge sword is crafted with great care and precision by the experienced craftsmen at WKC Solingen. The sword is crafted from premium steel and decorated with intricate engravings and symbols representing meaning and belonging to the lodge association.

The lodge sword serves not only as a token of membership, but also as a symbol of honor and commitment to the values of the lodge fraternities. It is an expression of pride and belonging, worn on special occasions and ceremonies.

Invest in the lodge sword from WKC Solingen and show your connection to the lodge association. This exclusive sword is not only an impressive collector's item, but also a symbol of the values and traditions that your brotherhood represents. Order today and enrich your lodge association with this unique and symbolic lodge sword.
to article

---
Masonic Swords and accessories